NetSuite Enables Graduating QuickBooks Customers to Transform Their Business by Taking Their Systems to the Cloud
Graduate onto NetSuite to Transform and Scale your Business
Are you ready to turbo-charge your business? Tired of struggling with aging business systems, fragmented reporting and never-ending IT costs? Switching from QuickBooks to NetSuite's cloud solution enables companies to lower costs, streamline key business processes, boost productivity and be more competitive.
Manage your business end-to-end with one integrated business suite for all of your core processes. No more juggling of separate software applications and wasting time and resources maintaining and upgrading a hairball of on-premise software applications.
NetSuite understands that many customers dread the unknowns of making a switch, so we built a program that makes it easy and painless. The NetSuite SuiteSuccess Starter Edition is geared to get you up and running quickly on day one, thanks to pre-configured KPIs, workflows, reminders and dashboards. Best of all, implementation is included.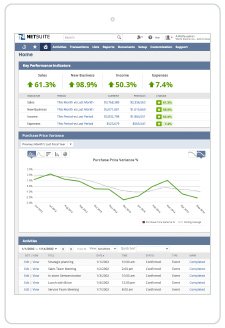 "We have grown 500 percent year-over-year because we're
able to put our resources on selling the product, and not a lot
into the back-end."
Justin Lawrence, Head of Supply Chain/Operations and Finance, Dyla LLC
Read the story
"You can run your entire business on NetSuite, but one of the
things I liked was we were able to implement on our timeline
because of the flexibility of the product."
Bryan Wolff, CFO, Thrive Market
Read the story
Timely Information and Insight
Improve business performance with real-time metrics and role-based dashboards.
Close with Confidence
Accelerate the financial close while maintaining compliance with applicable accounting standards.
Streamline the Back Office
Eliminate errors with seamless integration between financials, CRM and ecommerce.
Report with Accuracy
Drill down into the underlying details to understand the impact to your business.
Interested in becoming a partner?