Switch To NetSuite From Microsoft
NetSuite Enables Microsoft Customers to Transform Their Business by Taking Their Systems to the Cloud
The #1 Cloud ERP Solution
Join the More Than 21,000 Customers Running Their business on NetSuite
Are you ready to turbo-charge your business? Tired of struggling with a hairball of hosted, managed or on-premise business systems, fragmented reporting and never-ending IT costs? Switching from Microsoft cloud-washed applications to NetSuite's true-cloud solution enables businesses to lower costs, streamline key business processes, boost productivity and be more competitive.
No more juggling of separate software applications and wasting time and resources customizing, maintaining and upgrading a hairball of software applications. NetSuite helps you manage your business end-to-end with one integrated business suite for all your core businesses processes including ERP, PSA, HCM, CRM, ecommerce and Global Financials including core accounting, advanced subscription billing, revenue management, revenue recognition, financial planning and budgeting, global accounting and consolidation and on-demand, real-time reporting capabilities.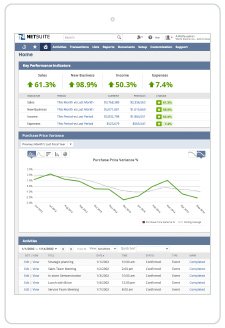 AFFORDABLE AND CUSTOMIZABLE
A modern, agile business solution that is cost-effective, scales rapidly and always current.
COMPREHENSIVE SOLUTION
Standardize on a single business solution for all your different department needs.
QUICK AND EASY IMPLEMENTATION
An engagement methodology designed with leading practices to get you up and running in weeks.
UNIFIED, REAL-TIME VIEW OF YOUR BUSINESS
A single version of the truth with all your data residing in a single source.