Support Your Services Organization End-to-End with
a Powerful, Cloud-Based Suite
Get Actionable, Real-Time Visibility into Project Performance
To maximize profits and operations, your organization needs clear visibility into team and project performance. NetSuite provides robust dashboards, reporting and analytical tools that provide a real-time view into your services organization.
NetSuite's dashboards and reporting solutions enable you to monitor, report and analyze overall project performance in real-time, including resource utilization, profit margins, project budgets versus actual and more. Every stakeholder from executive to project manager can instantly see personalized reports with the metrics that matter most.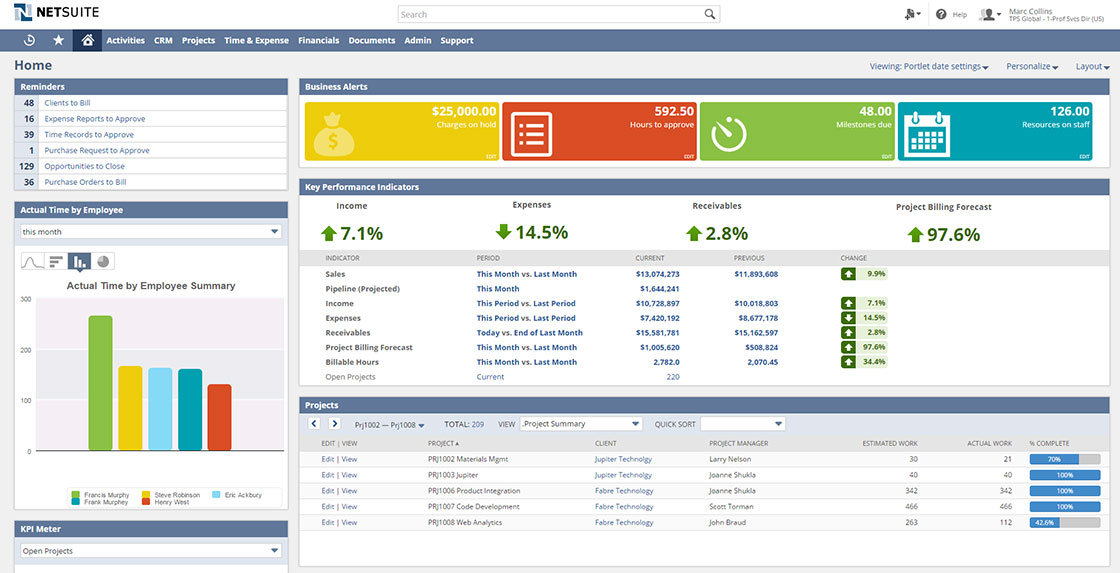 Real-Time Personalized Dashboards
Personalized real-time dashboards provide notifications and one-click access to critical project information and customize on a per user basis.
Powerful Analytics To Meet Your
Current and Growing Reporting Needs
NetSuite includes a full reporting suite that allows you to create flexible reports and list views, as well as the ability to sort and filter. Save any report and view the latest, up-to-the-minute results.
Self-Service Collaborative Reporting
Use and modify pre-configured professional services reports and create powerful historical and forecast reports, including billing and utilization.
Make Data Driven Decisions
Gain insights and make better decisions with summary dashboards that show your critical KPIs and let you hone in on your organization's performance.
Improve Collaboration
Improve collaboration by ensuring every stakeholder is operating on the same shared view.
Drive Project Performance
Closely monitor project profitability and performance, view resource utilization and billing forecasts, understand backlog and view timesheet status.
Eliminate Manual Processes
Eliminate spreadsheet-based reporting with web-based, real-time reporting. Reduce time spent hunting for key metrics with personalized role-based dashboards.
Learn more about how our Professional Services Automation solution can help elevate your
services delivery business